Containers for planting flowers can be made of any material: ceramic, plastic, rubber, metal or wood. It is a mistake to think that flowers grow well only in ceramic pots. They grow well and bloom in any container, you just need to ensure the right ratio of soil and drainage and use modern and ancient methods of moisture retention – hydrogel and mulching.
Note! In containers, the soil dries much faster than in open ground, and the plant absorbs nutrients very quickly, ie when creating a container garden, you must daily monitor soil moisture in containers, and on hot hot summer days, watering should be doubled, fertilize enough. every 5-7 days.
Features of planting in containers
For ceramic containers, it is enough to pour a little expanded clay on the bottom so that the bottom is closed.
Then put a soaked hydrogel, or line a drainage mat, pour the soil and plant the plant, cover with mulch. We do all this to keep the soil moist for as long as possible.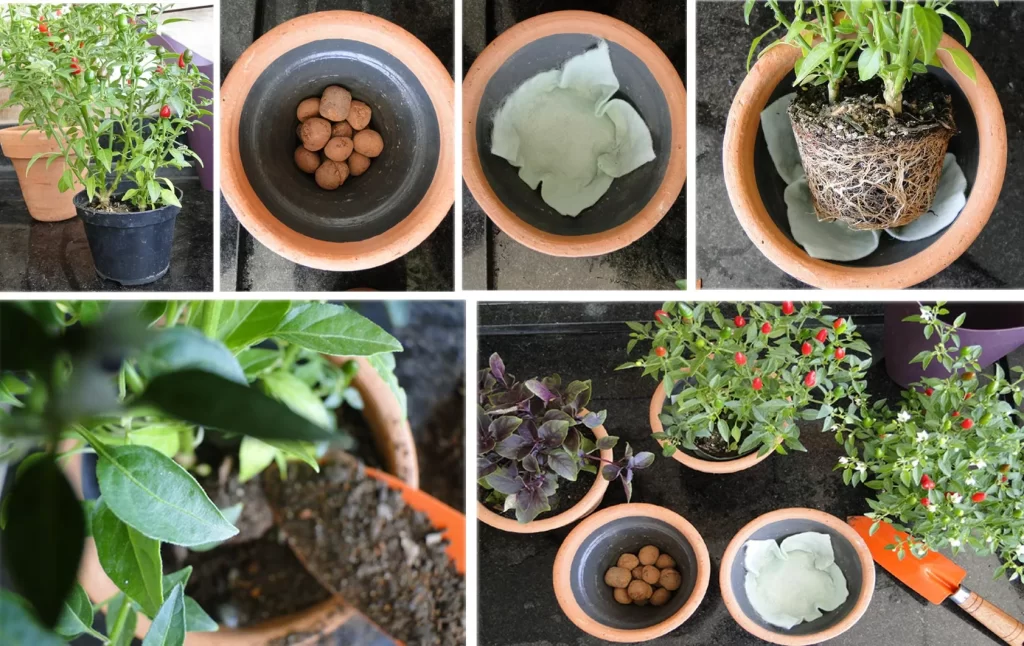 Planting in a wooden container is similar, but the expanded clay needs a little more. For a plastic container on a layer of expanded clay you need to pour a layer of coarse river sand, a centimeter thick – one and a half. The soil should try to choose looser, it is desirable to mix it with perlite and vermiculite, sphagnum, hydrogel.
When planted in a metal container, expanded clay occupies one third of the height of the container, followed by a layer of sand and light soil. At the same time, it is still better to move such containers in the shade in the heat, and in rainy and cold weather – under a canopy or in a gazebo, in a place protected from the wind.
Special conditions are required for planting flowers in pots, because they do not drain water, and the roots are more difficult to breathe, so all these drainage rates should be increased 1.5 times.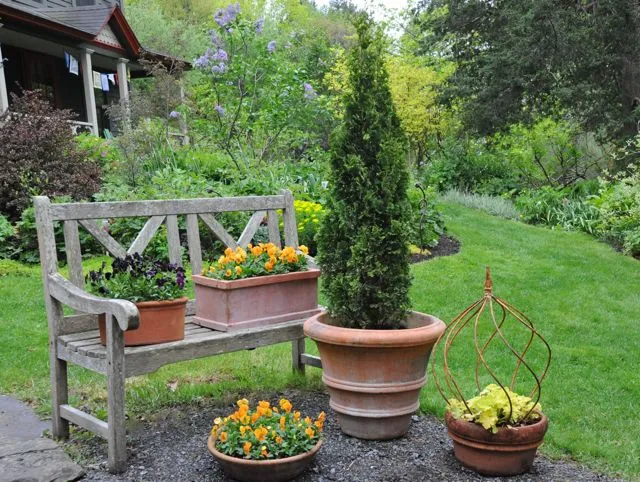 Selection of plants for the container garden
The range of plants used in container horticulture is large – it is not only annuals but also perennials, including: bulbous, alpine and houseplants, dwarf conifers, small trees and shrubs, even vines and aquatic plants. When planting tall specimens for greater stability and protection from the wind on the bottom of the containers put stones.
Lavender is pink, purple, white and even yellow.
Containers, plants and soil are the main materials for a future container garden or terrace. Selection of plants is very important, not all flowers like to be in containers, or rather, in small containers. If you have large pots (more than 30 cm in diameter), you can plant any of the garden annual flowers, and if your containers are larger than 45-50 cm in diameter, you can even plant perennials. If you want to plant a perennial, and the container is smaller than the required size, in winter you will need to bury it in the ground to surface level, so that the flowers successfully overwinter and do not freeze.
If the containers are small, then plant flowers undemanding to the volume of the earth.
These are petunia, surfinia, pelargonium, lobelia, ageratum, marigolds, low-growing varieties of zinnias, asters, daisies, verbena, sage, calendula, begonias, small dahlias, all spring onions and gladioli. And nasturtium in this regard is very capricious. Decorative sunflower loves large containers. Curly flowers also do not tolerate a small amount of soil, with the exception of just sweet peas.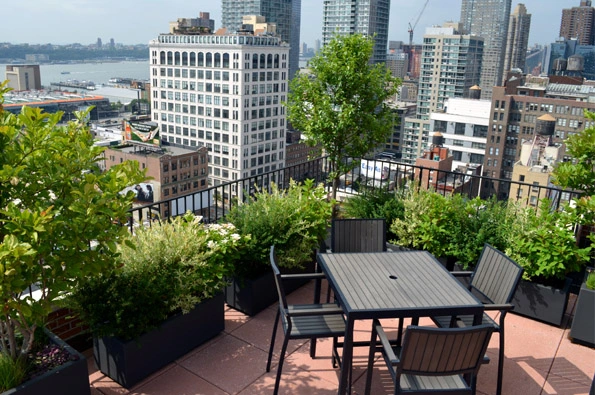 It is interesting to grow in containers not only perennials, but shrubs and even trees. Boxwood is uncomfortable to live in, but spirea and barberry feel great in containers, cotoneaster is brilliant and alpine currant, willow, larch, ornamental apple trees grafted on a low trunk, also look charming and give the garden a small Japanese accent.
Mountain pines, dwarf Christmas trees, larch on the trunk attract special attention in the container, it will be effective if they decorate the patio or emphasize the entrance to the house. If you have a conifer in a pot, remember: that the Christmas tree, pine and their prickly relatives must be dug into the ground with a container. If it is too heavy or too beautiful, carefully remove the plant from the container and transfer it to the ground. In the spring you will be able to perform the reverse operation.
Roses also like to live in pots, especially elegant here ground cover "queen of flowers" and varieties of roses "Mozart" and "Ballerina".
We like it in pots and stem roses, and it is easier to insulate them in a pot for the winter.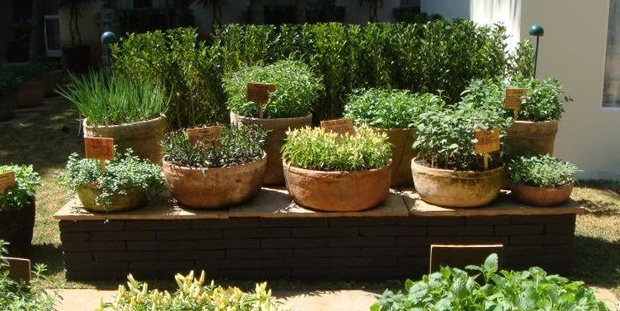 In a fairly large container or in several medium-sized, you can plant a mini-garden. Useful spices (parsley, dill, thyme, rosemary, mint, lemon balm, etc.), chives, salads, cherry tomatoes, decorative peppers, strawberries feel comfortable in pots. Add there for more decorative useful flowers of nasturtium, calendula and marigolds – the delight of your guests is guaranteed. Such containers are the place near a barbecue or barbecue.