Sunflower is a decorative and beautiful plant that you can easily grow both on the windowsill at home and in the garden.
A sunflower will become a wonderful decorative decoration of the house if you plant it in a container. It grows quite quickly. When growing sunflowers in a container or in a flower garden, choose short or dwarf sunflower varieties.
How to start growing sunflowers in a container. Of course, from the selection of seeds.

Types of sunflower
The efforts of breeders resulted in a wide variety of sunflower varieties. Many of them are so different from their usual appearance that they can mislead even the most experienced gardeners.
"Classic sunflower" for lovers of the good old country sunflower: it is unpretentious and charming. Its yellow juicy inflorescences decorate the garden from July to October, always delighting with their bright and cheerful appearance.

For fans of large format, giant varieties are perfect, indispensable when creating hedges in the country style:
yellow – "Titan", "Bismarkianus", "Giant Single", "Ginger Nat";
burgundy – "Red Sun", "Moulin Rouge" (Moulin rouge);
variegated – "Autumn Beauty", "Music Box", "Fun'n'Sun mix", "Parasol mix", "Monet mix" .

Recently, red, pink and lemon colors of sunflowers are increasingly common in horticulture. For example, variegated flower bed varieties:
"Velvet Queen", "Prado Red" – red;
"Carmen", "Chianti" – burgundy;
"Iuliana", "Moonlight", "Moonlight", "Lemon Aura", "Valentyn", "Floristan" – lemon;
"Sun King" – pink with a lemon edge;
"Hope" – pink-burgundy with a lemon edge;
"Florence" – burgundy-lemon;
"Summer" – with two- and three-colored inflorescences from yellow to light brown and red.

Container varieties will help prolong the charm of summer even in home gardening: "Teddy Bear", "Pacino", "Zebulon", "Big Smile".
Choosing a container for sunflowers
You need to start growing sunflowers by choosing a container.
Plant does not really like to be transplanted, so for dwarf varieties it is better to immediately choose a pot with a diameter of at least forty centimeters. If you decide to grow a giant variety of sunflower, it is better to choose a container with a volume of at least 18 liters.
The next step is to fill the container for growing sunflowers with drainage and soil. As drainage, expanded clay, gravel or pebbles are perfect. Then pour soil into the growing container. You can use, for example, compost and a ready-made soil mixture. Pour the soil into the pot so that there is about two and a half centimeters left to the edge.
How to sow sunflower seeds in a container
Decorative sunflower seeds should be planted to a depth of no more than two centimeters. A ninety-centimeter-long box can fit no more than eight plants, planted at a distance of ten centimeters from each other. Seeds are placed in pairs.
In this case, you need to be prepared for the fact that less viable sprouts will have to be removed in the future.
After the sowing of the seeds is completed, the land must be abundantly watered. The subsequent watering regime is quite stable: once every two days. In no case should the soil dry out.
Sunflower seeds can germinate in three, eight, and fourteen days. If this did not happen after two weeks, then the chance of further sprouting is reduced to almost zero. After the appearance of the first sprouts, it is necessary to remove (it is impossible to pull out, only to cut) less developed sprouts, and leave only one from the pit. As soon as the height of the plant reaches thirty centimeters, increase the watering.
Where to put the sunflower container
It is important to find the right place for the plant. Sunflowers do not tolerate shade well, so it is better to put them in a well-lit room, on a loggia or balcony.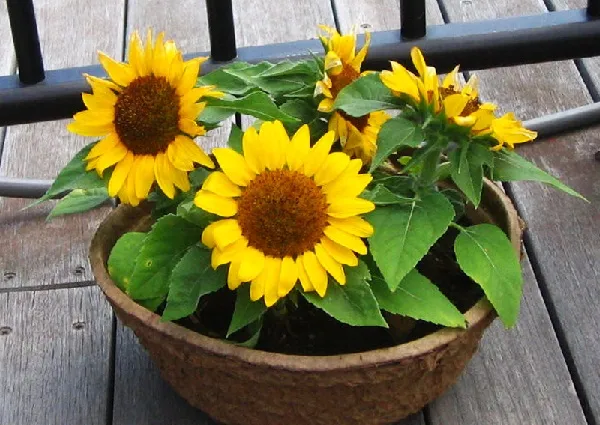 Fertilizer for sunflower
After the first buds begin to form on the plant, increase watering and fertilizing with a complex mineral fertilizer once every 7 days.
Sunflower support
As the sunflower grows, you may run into the problem that the flowers will become very heavy and need to be tied to a support.
Collection of sunflower seeds
To collect sunflower seeds, wait for the flower to dry completely. A huge advantage of growing sunflowers at home is its complete protection from birds, which often attack the plant in open areas long before harvest.